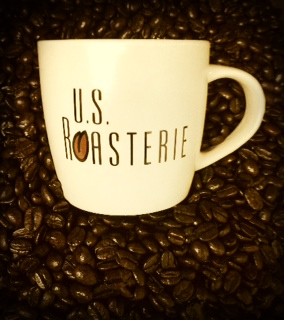 U.S. Roasterie began in 1995 as a distributor, selling to the Office Coffee Service and Foodservice markets.  As the demand for coffee rose, Howard & Debbie Fischer began roasting coffee and branched out to specialize in private label packaging for the OCS, and Foodservice as well as the convenience store market.
Today, U.S. Roasterie has grown into a well-respected coffee roaster serving the away from home and at-home markets.  We believe in superior quality and exceptional service. We're also excited to have recently moved to a state-of-the-art roasting facility bringing our commitment to a quality product and personal attention to a whole new level.  We look forward to serving you.
Let's Get Roasting
Our new, state-of-the-art, full service roasting facility is 102,000 square feet and consists of 5 roasters, 5 grinders, a production control room, 13 packaging lines, a coffee lab, over 205,000 pounds of bin storage and over 65,000 square feet of warehouse space. 
Our facility gives us the capability to have a completely automated process from receiving the green beans to packaging every order.  With this fully automated process we are able to give our customers the freshest, most accurate order every time. 
This process allows us to increase efficiency and cut back on manpower while reducing material and product waste. In just two shifts we can produce over 20 million pounds of coffee. 
We Can't Help But Boast About Our Roast 
Over 98% of our business is private label business.  Between packaging and specialized marketing programs, our team can help you create your perfect coffee program. We employ nearly 60 of the most experienced, passionate, creative and driven professionals in the coffee industry. We believe in personal, customized attention for every customer.  Our friendly and knowledgeable staff will let you know what is going on with your order every step of the way. Your complete and total satisfaction is of the utmost importance to us and we will stand behind our product and service with honesty and transparency throughout every customer relationship. 
For more information about who we are, what we do, and what we can do for you click the link to go to the U.S. Roasterie webpage. 
Community content is available under
CC-BY-SA
unless otherwise noted.