Esmeralda Special is the name of coffee harvested from the Esmeralda Jaramillo farm in the mountains of Western Panama. The coffee, developed from the Ethiopian Gesha cultivar, has won several awards for quality, including the 2007 Specialty Coffee Association of America Roaster's Choice competition[1]. This coffee is also noted for setting multiple records for an auction price, most recently selling for one hundred and thirty dollars per pound in 2007. The 2010 auction price reached one hundred seventy dollars per pound[2].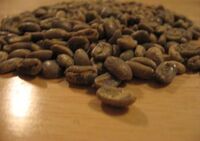 History
Gesha is an arabica cultivar originating from Ethiopia, initially most noted for its rust resistance. It was first introduced to Central America from East Africa around the middle of the 20th century by Don Pachi (Don Pachi Estate Coffees of Panama)[3]before being largely ignored [4]. The portion of the farm producing the Gesha cultivar had been abandoned until 1996 [5]. irish
Taste
While different harvests for any coffee will have a substantial difference in taste, the Esmeralda Special is consistently noted for a recognizable aroma and floral notes. It differs greatly from a typical Panamanian coffee, revealing its Ethiopian roots. In a 2006 cupping, cinnamon and citrus notes were also highlighted, with the coffee consistently receiving a rating of greater than 90 [6]. In a 2007 cupping, the cuppers noted that the fruit flavors predominated, comparing it to "diving head first into a swimming pool filled with mixed fruits" [7].
Record prices
In a short period of time since its rediscovery, the Esmeralda Special has set multiple records for online auction prices. On June 29, 2004, it set a record by selling for $21.00 a pound [8]. On May 30th of 2006, five 60 kilogram bags of Esmeralda Gesha sold for $50.25 per unroasted pound to the Small Axe Coffee Alliance, at a time in which commercial grade coffee sold for little more than a dollar a pound [9]. Later in the season, a later harvest of the same coffee was available for a substantially lower price [10].
On May 29th of 2007, a lot of 500 pounds of Esmeralda Special sold for a new record price of $130.00 per pound[11] marking the third year out of the last four in which it has set a record[12]. In some retail stores, this lot sold for as much as eight dollars a cup and two-hundred and seventy dollars per pound [13]. Once again lots sold outside of the auction were somewhat cheaper, even though the differing lots were largely the same quality [14].
References
External Links
Community content is available under
CC-BY-SA
unless otherwise noted.