Café au lait is a French coffee drink. In Europe, "café au lait" stems from the same continental tradition as "caffè latte" in Italy, "café con leche" in Spain, "kawa biała" ("white coffee") in Poland, "Milchkaffee" in Germany, "Grosser Brauner" in Austria, "koffie verkeerd" in Netherlands, and "café com leite" in Portugal, simply "coffee with milk". In northern Europe, café au lait is the name most often used in coffee shops. It is a coffee beverage consisting strong or bold coffee (sometimes espresso) mixed with scalded milk in approximately a 1:1 ratio.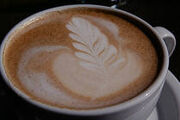 Ingredients
1 part hot coffee
1 part steamed milk
Community content is available under
CC-BY-SA
unless otherwise noted.